We invited young people aged 6-12 in Greater Birmingham to take part in the STEAM Power Energy Challenge...
The most ingenious ideas were selected to be made in collaboration between the children inventors and makers from Little Inventors and STEAMhouse turned their ideas into reality, before an exciting showcase exhibition which took place in early 2020 at Birmingham City University!
STEAM Power challenge Resource Pack
In this resource pack, you will find two PowerPoint presentations. The first introduces the Energy challenge, what energy is, why it matters, looks at our human history with energy and challenges young people to invent better ways to make, use, store or stop wasting energy. The second presentation offers a look at different sources of energy. Two activity sheets are provided as well as an invention sheet. A resource guide with suggested activities and timings is also included, as well as curriculum links and learning outcomes.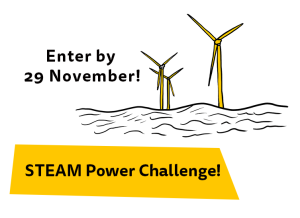 Terms and conditions
LITTLE INVENTORS STEAM POWER CHALLENGE - TERMS AND CONDITIONS
TERMS AND CONDITIONS APPLY TO EACH ENTRY
If you are the parent or guardian of a child who wishes to enter this competition, please read these terms and conditions on behalf of your child before they enter. Each entrant who is a child must have the consent of their parent or guardian to enter and, by giving your consent, you (the parent or guardian) agrees that the below terms and conditions apply to each entry submitted by your child. Each entrant is deemed to have accepted and agreed to be bound by these terms and conditions upon entry. Little Inventors reserve the right to refuse entry, or refuse to award any prize, to anyone in breach of these terms and conditions. The competition is free to enter and no purchase is necessary.
WHO ARE THE PROMOTERS? The promoters of this competition are: Little Inventors Worldwide Limited (registration no. 10344685) (the "Little Inventors"). Correspondence address: [26 Granville Court Newcastle Upon Tyne NE2 1TQ]
WHO CAN ENTER AND HOW LONG DOES THE COMPETITION RUN FOR?
The competition is open to children aged 6-12 in the region of Greater Birmingham: a. aged 6-12 years old; and b. provided that the entrant has permission from their parent or guardian to enter, Entrants under the age of 18 years may be asked to provide proof of permission from their parent or guardian to enter this competition. If such proof cannot be provided then unfortunately the relevant entry may be disqualified. The competition will run from 15 September 2019 (the "Opening Date") to 29 November 2019 (the "Closing Date") inclusive. All competition entries must be received by no later than the Closing Date. All entries received after 23.59pm on the Closing Date regrettably cannot be accepted.
HOW TO ENTER To enter: (i) download the challenge resource pack available on Little Inventors' website (pioneers.littleinventors.org) and print out the challenge invention sheet provided on the website; and (ii) draw your invention idea on the challenge invention sheet, scan the whole sheet and then upload the scan of your idea(s) in jpeg, png or gif format to the Little Inventors' website before the competition closes. Each entrant may submit up to a maximum of 5 entries but no entrant can win more than one prize. Little Inventors do not accept any responsibility for entries that are incomplete, illegible, corrupted or which fail to reach Little Inventors by the close of the competition for any reason (including, without limitation, technical issues). Copies of each entry submitted will not be returned.
IMPORTANT CONFIRMATIONS In relation to each entry submitted by them, the entrant confirms that: the entry is completely their own original work and does not copy or include any third party's work; there are no conflicting agreements in place that restrict use of any images or other works included in each entry submitted by them; they grant Little Inventors a perpetual, royalty-free, worldwide licence for the full term of copyright, to use, alter, adapt, publish, distribute, display and sublicense rights in the works contained in each entry submitted by them; and they waive all moral rights in and to each entry.
Each entry may be displayed on the Little Inventors website (at the discretion of Little Inventors) and/or at Little Inventors event(s).
WHO WILL JUDGE THE ENTRIES? Little Inventors will be judging the competition with a relevant panel of judges of their own determining. The winning entries will be those that the judges consider to be the most inventive, creative and original. The decision of Little Inventors is final and no correspondence will be entered into about it.
WINNERS AND RUNNERS UP
There will be one winning invention drawings selected for making and displaying at a dedicated exhibition in Birmingham in early 2020. Judging of entries will occur after the Closing Date and the Winner and the Runners Up will be determined by the end of December 2019.
PRIZES The prize for each winning child will be: (i) one (1) invention will be made real by a professional maker, designer or artist. (ii) the selected invention ideas that are made real will be exhibited in Birmingham (venue TBC) in early 2020. and (iii) Little Inventors retain the discretion to determine the exhibition placement which the winning invention ideas will be displayed (e.g. location at the exhibition event.) and the final selection criteria is subject to any required release/consent forms being signed by the entrant and their parent/guardian if applicable. The Winners will be notified by email (using the details provided with the Winner's entry) on or before the 31 December 2019. Names of the Winners will also be posted on the Little Inventors website and each entrant consents to such publication by entering the competition. All prizes are non-exchangeable, non-transferable and no cash alternative is offered. Little Inventors reserve the right to replace the prize with an alternative prize.
PUBLICITY AND DATA USE The Winners may be requested to participate in publicity related to the competition which may include the publication of their name, age and invention ideas in any media. Entrants over the age of 18 hereby consent to participate to such use of their details, and Little Inventors shall seek permission from a parent or guardian of any Winners under the age of 18 prior to any publication of such entrant's details. By entering this competition, each entrant agrees that any personal information provided with an entry may be held and used by Little Inventors (the data controller), solely to administer the competition. Data collected by Little Inventors in relation to an entrant's use of the Little Inventors' website will be held and used in accordance with Little Inventors' privacy policy (please see the terms and conditions link on the Little Inventors website).
OTHER IMPORTANT DETAILS Little Inventors reserves the right to hold void, cancel, suspend, or amend the competition where it becomes necessary to do so. Insofar as is permitted by law, Little Inventors, their agents or distributors will not in any circumstances be responsible or liable to compensate the winner or accept any liability for any loss, damage, injury or disappointment occurring as a result of entering the competition or accepting a prize. The prize draw will be governed by English law and entrants to the competition submit to the jurisdiction of the English courts.